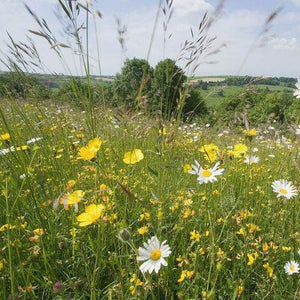 Somerset (North) Meadow Seed Mix
This lovely meadow seed mix is well known in wildflower seed circles. It is harvested from beautifully managed small hay meadows, which have been established on thin soils over limestone in a pretty valley outside Bath, on the southern edge of the Cotswolds. Gorgeous.
There are full instructions on the back of the packet. You can expect to receive your seed within five working days of placing an order.
Species making up over 4% of the mix are shown in bold.
Major Wildflower Species:
Common Knapweed Centaurea nigra
Rough Hawkbit Leontodon hispidus
Oxeye Daisy Leucanthemum vulgare
Black Medick Medicago lupulina
Ribwort Plantain Plantago lanceolata
Meadow Buttercup Ranunculus acris
Rhinanthus minor Yellow Rattle
Wild Red Clover Trifolium pratense
Sedges and Grasses
Sweet Vernal-grass Anthoxanthum odoratum
Quaking Grass Briza media
Upright Brome Bromopsis erecta
Glaucous Sedge Carex flacca
Crested Dogstail Cynosurus cristatus
Perennial Ryegrass Lolium perenne
Other species are present in smaller quantities.
Supplier: Emorsgate Seeds
Not been delivered yet
Can't not review seed as not received product yet! When can expect my deliver ?
Hi Lyn - I'm sorry about your order's non-appearance. As our private email correspondence, it was sent on the 5th and Royal Mail seem to have lost it, judging by the tracking details. We'll send a replacement ASAP.
Yellow rattle and Somerset north mix
These arrived rapidly and will be planted in the next few weeks, looking forward to seeing how they do as Dad converts his front lawn to a meadow
Seems fine
I would maybe have given 5 star but haven't had a chance to sow them yet to see if they are viable.
Somerset (North) Meadow Seed Mix