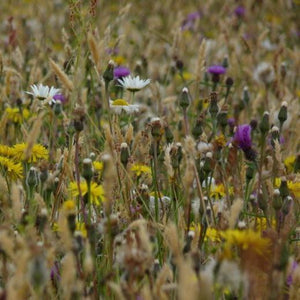 Devon Meadow Seed Mix
This mix has 40 species and is roughly 80% grasses to 20% wildflowers. The seed is harvested from over 70 acres of ancient meadows at Goren Farm, on the Blackdown Hills in Devon, and contains 28 species of wildflower. This includes some cornfield annuals, which will provide early colour in the summer after seeding.
There are full instructions on the back of the packet. You can expect to receive your seed within five working days of placing an order.
Species making up over 4% of the mix are shown in bold:
Major Wildflower Species:
Yellow Rattle, Knapweed, Catsear, Rough Hawkbit, Ribwort Plaintain, Wild Red & White Clover, Meadow Buttercup, Red Sorrel, Birds Foot Trefoil,Common Spotted Orchid, Field Forgetmenot, Corkey Fruited Water dropwort, Corncockle, Poppy, Cornflower, Meadow Vetchling, Black Medic, Vipers Bugloss, Self Heal, Betony, Bulbous and Meadow Buttercup, Cowslip, Wild Carrot, Cow Parsley, Red Campion and Yarrow.
12 species of grass:
Smooth stalked meadow grass
Sweet vernal grass
Quaking grass
Crested dogtail
Sheeps fescue
Chewings fescue
Slender red fescue
Meadow barley
Yellow oatgrass
Rough bent Grass
Brilliant choice and service
Loads of advice and selections.
Next day delivery on both items.
Last year's Meadow mix was stunning!
Delivered as described. Fingers crossed for next summer!
Useful website information, prompt delivery, nice to have a local (within county) seed mix to purchase. Looking forward to next summer!
Great service
Safe and prompt delivery. Love the packaging. Sown in a variety of ground from bare soil to existing meadow with not much grass variety. Live within 30 miles so good to get a local provenance. Looking forward to assessing the results next year.
Great service & packaging
The seeds arrived in a timely manner. Can't wait to sow them & see the results
So far so good.
Prompt delivery of meadow seed mixes from areas of Devon which are equidistant from us. Each selection is different and each contains a good mix from the chosen areas. They will be sown shortly.