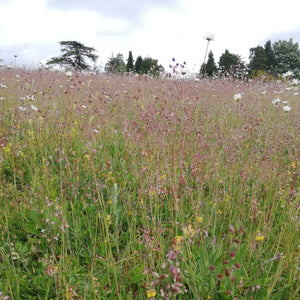 Cotswolds Meadow Seed Mix
This attractive meadow mix is harvested from an immaculately managed farm outside Cheltenham in the Cotswolds. Like everything else on the farm, as you can imagine, the meadows are immaculate. The land there is brash.
We would categorise this mix as MG5a - a typical mix for a range of well drained neutral soils in lowland Britain. It's a strong and resilient starter mix for a new meadow and has a strong element of plants from the clover family - great for bees.  The photo shows the meadow just before harvesting.
There are full instructions on the back of the packet. You can expect to receive your seed within five working days.
If you want larger quantities of this mix head over to our parent website.
Wildflower Seed (over 50%):
Centaurea nigra Common  Knapweed
Cerastium glomeratum Sticky Mouse-Ear
Daucus carota Wild Carrot
Euphrasia Eyebright sp.
Galium verum Lady's Bedstraw
Leontodon autumnalis Autumn hawkbit
Lotus corniculatus Birdsfoot trefoil
Plantago lanceolata Ribwort plantain 
Prunella vulgaris Selfheal 
Ranunculus acris Meadow buttercup 
Rhinanthus minor Yellow Rattle 
Trifolium dubium Lesser trefoil
Trifolium repens White clover 
Trifolium pratense Wild Red Clover
Grasses (under 50%):
Agrostis capillaris Common bent
Cynosurus cristatus Crested Dog's Tail
Festuca sp Fescue sp 
Phleum sp. Timothy
Other species are present in smaller quantities.
Supplier: Bright Seeds
No show
Still waiting for seeds how did you send them ?by horse and cart ?
We're sorry Royal Mail were so slow in getting your seed to you, but pleased it finally arrived!
Cotswolds Meadow Seed Mix
Never signed up to pestering emails
Seeds delivered on time as ordered; not in the ground yet. Mediocre star rating because I never agreed to receiving annoying spam emails about filling in reviews: respect my privacy, don't assume you can ignore it.
We were sorry to receive your email and felt it deserved a response. We send customers a single email after purchase asking them to comment on their experience (many online retailers send multiple messages like this). This gives us helpful feedback to improve our service and product.
For a small company like ours, publishing these ratings is one of the only ways we can differentiate ourselves when people search online, and assures them that we're bona fide. It's not just helpful for other customers; it's something we have to do to survive commercially.
Regards,
British Wildflower Seeds
super fast service, can't wait for them to grow!
We're doing our best to make the garden in our new build house wildlife friendly. Did a lot of research on best types of mix. Wanted one with yellow rattle to help keep the grass under control but with fairly local mix of other plants. This looks like it fits the bill perfectly, will be sewing it in autumn and looking forward to seeing the results next year.
Quick delivery of a high-quality product
Very pleased with our purchase -thank you